Keitaro YOSHIMOTO − Editorial Board Member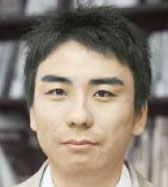 Keitaro YOSHIMOTO is currently Associate Professor of Department of Life Sciences, Graduate School of Arts and Sciences, the University of Tokyo. He received his M.Eng. and D.Sc. from the Tohoku University in 2001 and 2004, respectively. He was appointed as Special Postdoctoral Researcher, Maeda Bioengineering Laboratory, RIKEN in 2004, and as Lecturer at Life Science Center of Tsukuba AdvancedResearch Alliance (TARA), The University of Tsukuba in 2006. In 2010, he was promoted to his present position at the University of Tokyo and then as Principal Investigator. Since 2016, he has been a PRESTO researcher of Japan Science and Technology Agency.
---
from Analytical Sciences, Volume 33, Number 6 (2017).