Hiroshi SHIIGI − Editorial Board Member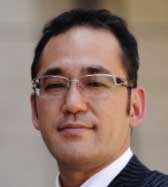 Hiroshi SHIIGI, Associate Professor at Department of Applied Chemistry, Osaka Prefecture University was born in 1973 in Yamaguchi Prefecture. He received his Bachelor (1995), Master (1997), and Doctor (2000) of Engineering degrees from Yamaguchi University. He worked at Yamaguchi University as a postdoctoral fellow (2000-2001) and Research Associate (2001-2003). He joined Osaka Prefecture University as an Assistant Professor in 2003, and became an Associate Professor in 2008. His research interest is to explore novel nanobio materials and their analytical applications.
---
from Analytical Sciences, Volume 31, Number 6 (2016).