Hideyuki KATSUMATA − Editorial Board Member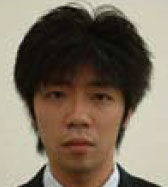 Hideyuki KATSUMATA, Associate Professor at Department of Chemistry for Materials, Mie University, was born in 1974 in Shizuoka Prefecture, Japan. He received his Bachelor (1996) of Engineering degree from Mie University, Master (1998) and Doctor (2001) of Science degrees from University of Tsukuba. He served as a Research Associate (2001-2007) and an Assistant Professor (2007-2015) at Mie University. During this period, he joined Prof. M. R. Hoffmann's group, California Institute of Technology, as a Visiting Associate (2007). He was promoted to his current position in 2015. His current research interests focus on the development of novel nanomaterials and their applications to analytical techniques.
---
from Analytical Sciences, Volume 33, Number 6 (2017).