Hiroshi AOKI − Editorial Board Member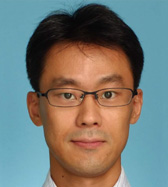 Hiroshi AOKI, Senior Research Scientist at National Institute of Advanced Industrial Science and Technology (AIST), was born in 1973. He received his Bachelor (1996), Master (1998), and Doctor (2001) degrees from School of Science, The University of Tokyo. He worked as Postdoctoral Fellow (PD) of the Japan Society for the Promotion of Science (JSPS) at The University of Tokyo (2001−2003), as Postdoctoral Researcher at AIST (2003−2004), and as Research Scientist at AIST (2004−2009). He was promoted to his current position in 2009. Meanwhile, he served as Visiting Lecturer at Tokyo Medical and Dental University (2010−2012), as Associate Specialist at University of California, Irvine (2016−2017), and as Visiting Professor at Saitama Institute of Technology (2019−) and at Keio University (2020−). He received the Japan Society for Analytical Chemistry Award for Young Researchers in 2009. His research interests are on simple and rapid sensing for oligonucleotide biomarkers and its applications to evaluating of chemical toxicity in cellular and ecological systems.
---
from Analytical Sciences, Volume 36, Number 6 (2020).