Akiko HOKURA − Editorial Board Member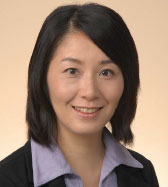 Akiko HOKURA, Professor at Department of Applied Chemistry, School of Engineering, Tokyo Denki University. She received her Bachelor (1992), Master (1994) and Doctor (1997) degree from Tokyo University of Science. She worked at Nagoya University (1997−1999) and NIMS (2000−2001) as a Postdoctoral Researcher, at Tokyo University of Science (2001−2009) as an Assistant Professor, and at Waseda University (2009) as a Lecturer, and then moved to Tokyo Denki University as an Associate Professor in 2009. She was promoted to her present position in 2013. Her research interests are the application development of elemental imaging and speciation based on plasma and X-ray spectrometry.
---
from Analytical Sciences, Volume 34, Number 6 (2018).