Toshio TAKAYANAGI − Editorial Board Member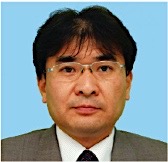 Toshio TAKAYANAGI, Professor at Graduate School of Technology, Industrial and Social Sciences, Tokushima University, was born in 1966 in Saitama, Japan. He received his Bachelor (1989), Master (1991), and Doctor (1994) degrees from Tohoku University. He worked as a Research Associate at Faculty of Science (1994 – 2002) and Graduate School of Natural Science and Technology (2002 – 2007), Okayama University. He was promoted to be Associate Professor (2007 – 2011), Okayama University, and then joined Institute of Technology and Science, The University of Tokushima as a Full Professor in 2011. During his tenue at Okayama University, he worked at Texas Tech University, TX, USA as a Visiting Researcher (2002 – 2003). His current research interests include analyses and utilization of reaction dynamics in a separation capillary in capillary electrophoresis.
---
from Analytical Sciences, Volume 37, Number 6 (2021).