Shinji SUEDA − Editorial Board Member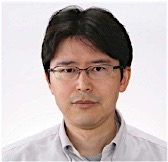 Shinji SUEDA, Professor of Department of Bioscience and Bioinformatics, Kyushu Institute of Technology, was born in 1970. He received Bachelor (1993), Master (1995), and Doctor (1998) degrees of Engineering from Kyushu University. After serving as a Postdoctoral Fellow at Waseda University (1998 – 2000), he joined Kyushu Institute of Technology as a Research Associate (2000), and was promoted to Associate Professor in 2008 and to his current position in 2017. He also served as a Research Fellow of PRESTO, Japan Science and Technology Agency (2005 – 2009). His current research interest includes the development of bioassays based on protein engineering techniques and fluorescent imaging.
---
from Analytical Sciences, Volume 37, Number 6 (2021).