Kohei UEMATSU − Editorial Board Member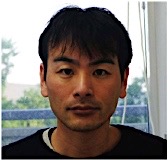 Kohei UEMATSU, Associate Professor, at Department of Bioscience and Biotechnology, Fukui Prefectural University. He received his PhD in 2009 at Nagasaki University. He served as Assistant Professor (2009 – 2012) and as Lecturer (2012 – 2019) at Fukui Prefectural University. He was promoted to his current position in 2019. His current research interests include electrochemistry and interfacial chemistry using fluorous solvents and materials.
---
from Analytical Sciences, Volume 37, Number 6 (2021).