Hideki KURAMITZ − Editorial Board Member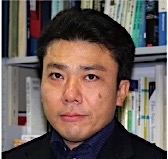 Hideki KURAMITZ, Professor, Faculty of Science, University of Toyama, he received his Ph.D. in Graduate School of Environmental Earth Science from Hokkaido University in 2001. He worked as a Postdoctoral Fellow at University of Cincinnati (2001 – 2003), and as Lecturer (2004 – 2009), Associate Professor (2009 – 20012) and Professor (2012 – present) at University of Toyama. His research interests include the development of analytical methods based on electrochemistry and/or spectrophotometry, visual colorimetric analysis, environmental monitoring, and water treatment.
---
from Analytical Sciences, Volume 37, Number 6 (2021).